rickster58 wrote:

Mary,

Do you know who has stockpiles of H5N1 vaccine?

To my knowledge (and I'm prepared to be corrected) there is no vaccine to H5N1.

Rickster58
Rickster- despite many announcements and tons of literature by vaccination companies we have the same problem with our developing (and we were working on this with some others behind the scenes) in developing H5N1 vaccine. The little critter does the Clade thing-
I cannot post the unpostable name here- but there have been some developments at Namru-3 an other listening posts on Twitter and insiders in the industry, we have as to a Clade 3
Actually Baxter has been playing live viruses in its vaccine (it made the h1n1 bug and patented it years ago as well as a possible vaccine) with and has cookie crumbs on its lab suits.
Flu Vaccine "Accidentally" Contaminated with Live Avian Flu Virus
By foundingfather1776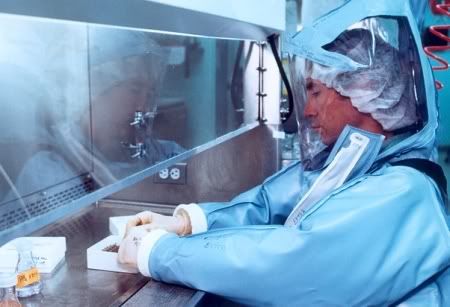 Paul Joseph Watson
Prison Planet.com
Thursday, March 5, 2009
Czech newspapers are questioning if the shocking discovery of vaccines contaminated with the deadly avian flu virus which were distributed to 18 countries by the American company Baxter were part of a conspiracy to provoke a pandemic.
The claim holds weight because, according to the very laboratory protocols that are routine for vaccine makers, mixing a live virus biological weapon with vaccine material by accident is virtually impossible.
"The company that released contaminated flu virus material from a plant in Austria confirmed Friday that the experimental product contained live H5N1 avian flu viruses," reports the Canadian Press.
Baxter flu vaccines contaminated with H5N1 – otherwise known as the human form of avian flu, one of the most deadly biological weapons on earth with a 60% kill rate – were received by labs in the Czech Republic, Germany, and Slovenia.
Initially, Baxter attempted to stonewall questions by invoking "trade secrets" and refused to reveal how the vaccines were contaminated with H5N1. After increased pressure they then claimed that pure H5N1 batches were sent by accident. This was seemingly an attempt to quickly change the story and hide the fact that the accidental contamination of a vaccine with a deadly biological agent like avian flu is virtually impossible and the only way it could have happened was by wilful gross criminal negligence.
According to a compiled translation from Czech newspaper stories, the media over there is asking tough questions about whether the contamination was part of a deliberate attempt to start a pandemic.
"Was this just a criminal negligence or it was an attempt to provoke pandemia using vaccination against flu to spread the disease – as happened with the anti-B hepatitis vaccination with vaccines containing the HIV virus in US? – and then cash for the vaccines against H5N1 which Baxter develops? How could on Earth a virus as H5N1 come to the ordinary flu vaccines? Don't they follow even basic precautions in the american pharma companies?" states the translation.
comment: you might notice that one of the vaccines for Swine Flu contains LIVE VIRUS. Big surprise after Baxter in its continued efforts to do what- go against the basics of vaccine creation. Live virus should not be in vaccines.

But in answer to the question. Its the same old song Rickster. They get an old Clade and produce a vaccine for something that is no longer a problem. It is like this blasted deal of getting my paperbacks out through our publisher. We cannot work with an 8 week get it to paperback deal. Well, they have this delay factor and it means todays vaccine is based on yesterdays virus.

Avian Flu split into quite a few sub strains, (there are big words for this I could use to be impressive- but drift and variant will do for now) We can't do HIV because according to some I have talked to in the HIV community who I have promised to quote less- there are so many strains- sometimes each person has their own personal little jewel which is different enough to easily infect a host of other HIV oositive patients with a brand new version.

So, on a major IMHO - vaccine companies get stuck with something that is not that effective - look at our steriling record of 6 out of 8 flu seaons with the wrong stuff. This costs. So what do they do? They give it anyway. They know it is not effective. They know that the Yamagata incident in Canada was a disaster.

http://www.webmd.com/cold-and-flu/news/20080208/flu-vaccine-most-flu-bugs-dont-match
Feb. 8, 2008 -- As the U.S. flu season soars, the CDC says this year's flu vaccine doesn't match two of the three main types of flu bugs now in circulation.
That doesn't mean the vaccine won't work. Vaccinated people who catch the flu get a much milder disease. This can make a life-or-death difference to people who are at high risk of flu complications, such as the elderly.
Flu season is officially under way. No U.S. state is flu free, says Joe Bresee, MD, the CDC's chief flu tracker. As of Feb. 2, flu was widespread in 31 states, regional in 17 states, and local in the two remaining states and in the District of Columbia.
"I don't think we are peaking yet," Bresee tells WebMD. "If you look at hospitalizations or outpatient illnesses or mortality, everything still has an upward slope. I wouldn't be surprised if we continue to trend upward for the next few weeks."
comment: so no amount of spin or excuses is going to put that one down.
The rationalization is that is offers "some protection" and the some protection is a life saver. Well, I am looking for facts and figures here-and they are exactly overwhelming. More like an excuse for - we missed the mark.

An effective H5N1 vaccine. The Russians claimed they had it..

http://www.redorbit.com/news/health/357191/russia_announces_avian_vaccine_against_bird_flu/index.html
And in the race for grants we have over 36 companies in the U.S. with wildly positive reports of promising results along with the cure for cancer. These occur for stock sale promos and over years where some have been called in question for making blatantly false claims to drum up money for a promising vaccine that isn't that promising and after 5 years- still doesn't work.

So- right now- we don't have anything totally solid for either h5n1 or h1n1. That's the bottom line. We have a lot of claims and we are rushing forward to pump something into a lot of men, women, and children- but the REAL effectiveness is NOT documented well, tested well, or particularly that unquestionably safe. That is the real deal. Not yet.

Medclinician