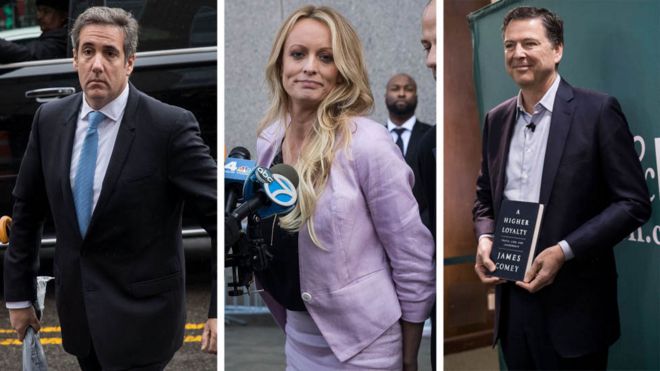 Whoever is writing the script for the political drama that Americans are currently living through needs to take it down a notch. The number of threads to the story is getting out of hand, and it's becoming difficult for even dedicated Washington-watchers, pundits and journalists to keep up.
This week alone has seen multiple developments in the swirling morass of controversy that has engulfed the Trump administration and those who have been or are investigating it.
Here's a quick review of the (exhausting) week that was.
Fallout from the Cohen raid
Just under two weeks ago, federal investigators raided the office and hotel room of Michael Cohen, Mr Trump's long-time personal attorney, business associate and all-around fixer of uncomfortable problems.
It represented a new legal front in the investigations into the president - including possible Cohen-orchestrated payments to women alleging affairs with Mr Trump - conducted by the US attorney's office in Manhattan, not special counsel Robert Mueller.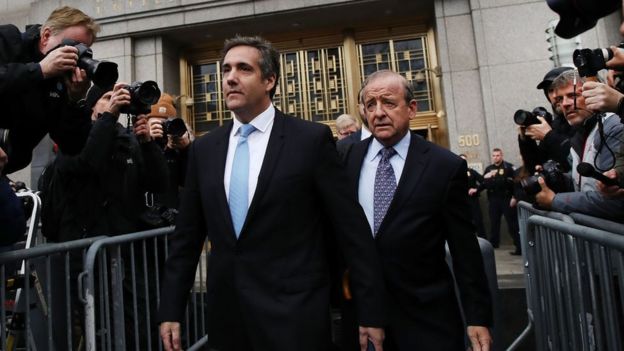 This week the legal battle centred around who gets to review the results of that search and determine what is covered by the protected communications lawyers can have with their clients.
Mr Cohen - joined by the president's legal team - argued that they should have first crack. The judge all but laughed them out of court.
The US attorneys want a special government team not directly connected to the case to do the review. The judge also entertained the possibility of appointing an independent third party to go over the documents and audio recordings.
There's more than a little concern in the White House (anonymously, on background, of course) that the search could expose misdeeds on Mr Cohen's part, perhaps involving personal or campaign finance violations, and he may feel pressure to co-operate with investigators, possibly jeopardising the president.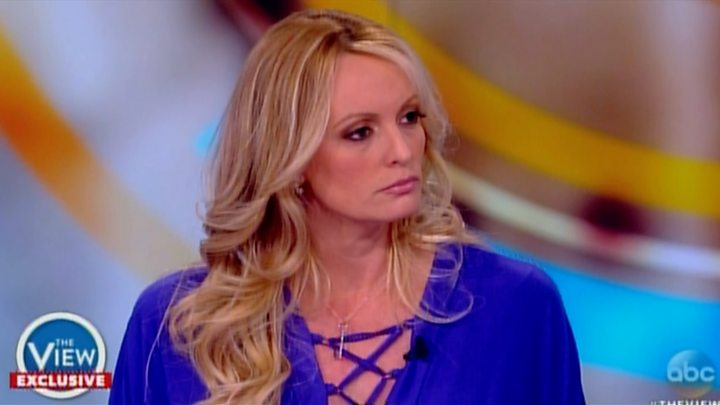 The search may also have led to the end of two lawsuits this week that could have generated big headlines if they had been allowed to proceed.
Mr Cohen dropped his defamation suit against news outlets that published the so-called Steele Dossier, which suggested that he had unsavoury ties to Russia. He had said the dossier damaged his professional and personal reputation. Now he's saying he has bigger legal fish to fry.
Then there's former Playboy model Karen McDougal, who alleges she had an affair with Mr Trump in 2005. She just settled her lawsuit to free herself from an exclusive agreement - brokered in part by Mr Cohen - to share her story with the National Enquirer. It was a tale the tabloid magazine with ties to Trump never chose to publish.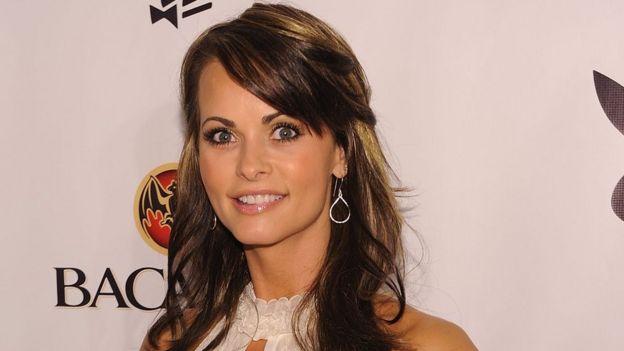 In both cases, material from the Cohen search could have proven relevant. It was out there for the taking, and now both cases have been put to bed.
Maybe it's all a coincidence. Maybe it isn't. "Maybe" is the sort of thing that keeps lawyers - and politicians - up at night.

The Comey media blitz debuts
This was supposed to be Comey Week, remember?
It started off with a bang, as former FBI Director James Comey took to the airwaves to accuse the president of being morally unfit for office and share new details of his sometimes awkward interactions with Mr Trump before the president sacked him.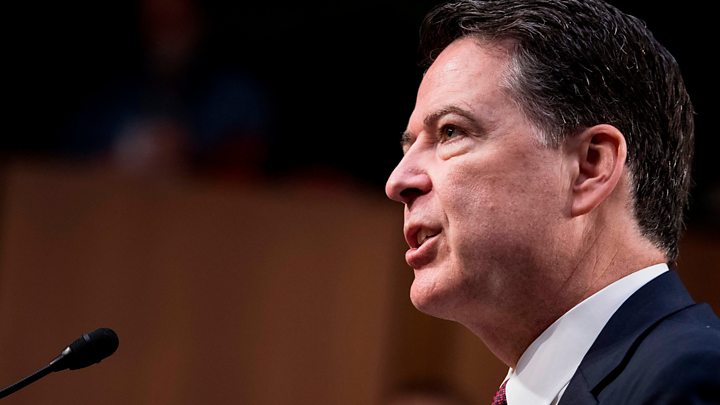 The interview certainly rankled the president's supporters and probably, when Mr Comey defended his handling of the Hillary Clinton email server investigation, reminded Democrats why they weren't his biggest fans in 2016, either.
After the fifth or sixth interview, the accusations lost a bit of their punch. Was that Mr Comey being interviewed by comedian Stephen Colbert? Did he really appear with Whoopi Goldberg et al on the daytime talk show The View?
Then, on Thursday evening, the Justice Department provided Congress with the memos Mr Cohen wrote shortly after those key meetings and, within minutes, they ended up in reporters' hands.
The documents were consistent with Mr Comey's recent comments and testimony before Congress last June. They paint a picture of a president who wanted loyalty from his FBI director in general and to ease off the government investigation into former national security adviser Michael Flynn in particular.
Mr Trump's critics see the memos as damning corroborating evidence of the ex-director's accounts. The White House and congressional Republicans argue that they're proof Mr Comey was out to get the president from the start.
The battle lines were drawn a long time ago, and no one seemed interested in coming out of their trenches this week.

McCabe (and Democrats) in the barrel
One new bit of information the Comey memos revealed is just how suspicious the president was of FBI Deputy Director Andrew McCabe from the very beginning.
Mr Trump had blasted Mr McCabe on the campaign trail, accusing him of pro-Clinton bias in his handling of the email server investigation because his wife had taken campaign contributions from a Clinton ally during her a 2015 Democratic candidate for state office.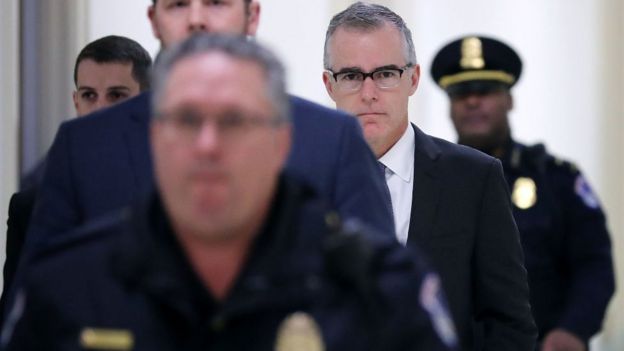 Last week a Justice Department inspector general report put the former deputy director in a tough spot, finding that he misled federal investigators under oath about his efforts to leak information to essentially protect his reputation. Mr Trump has cited this as vindication, although Mr McCabe's actions ended up being damaging to the Clinton campaign by revealing an ongoing federal investigation into her family's charitable foundation.
This week we learned the inspector general referred Mr McCabe's file to a federal prosecutor who could bring criminal charges. That would probably put Mr Comey in the position of testifying against a former deputy he has vouched for in the past.
Meanwhile, 11 House Republicans wrote a letter urging Attorney General Jeff Sessions to consider a criminal investigation of Mr McCabe, Mr Comey, Hillary Clinton, former Attorney General Loretta Lynch, and FBI employees Peter Strzok and Lisa Page for various actions during the 2016 presidential campaign.
"Because we believe that those in positions of high authority should be treated the same as every other American, we want to be sure that the potential violations of law … are vetted appropriately," they wrote.
Mr Trump has repeatedly groused that he is being unfairly targeted by investigators, when it's his political opponents who should feel the heat. Past presidents may have felt this way, but Mr Trump is one of the few to say (and tweet) it publicly, time and time again.

Trump's legal team
OK. Take a deep breath. We're not done yet.
This week also saw re-enforcements arrive for Mr Trump's short-handed private legal defence team - and one of the new arrivals is a very familiar face.
Rudy Giuliani, former mayor of New York City and a vocal Trump campaign supporter who was sidelined when the Trump administration was formed, is being brought on board - at least for a short time - to help "negotiate an end" to the investigation.
Mr Giuliani was once, a long time ago, the US attorney for the Southern District of New York - the jurisdiction that is handling the Cohen case - so he has some familiarity with how the government prosecutorial machinery operates.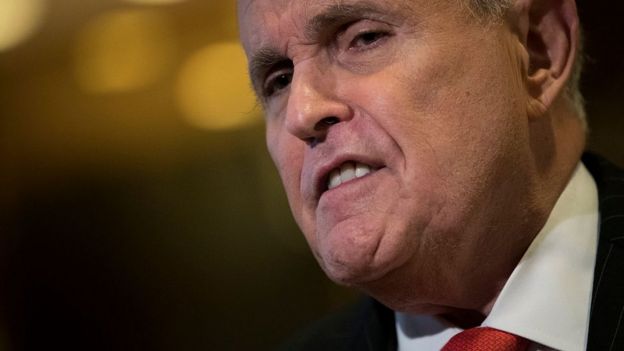 He also in the last days of the election was vocal about the various government investigation into Mrs Clinton and appeared to have advanced information on the newly discovered emails that led to Mr Comey's election-eve letter to Congress re-opening the investigation. Mr Comey said in an interview Thursday night that he had ordered an inquiry into possible FBI leaks to Mr Giuliani, but he was fired before it concluded.
This whole thing sometimes feels like a snake eating its own tail.
The other addition to the president's legal squad is a husband-and-wife team of former federal prosecutors from Florida who specialise in defending clients accused of white-collar crime. Multiple higher-profile law firms, and lawyers, had reportedly declined offers in recent weeks.
The website for the firm Raskin & (before, it seems, it crashed, perhaps due to massive amounts of traffic) quotes a reviewer who says "they are a good team to get you out of trouble."
Sounds like just what Trump and his team needs.

The case for Trump
Meanwhile, amid all the sturm und drang of various Trump-related controversies and investigations, Texas Senator Ted Cruz - in a glowing Time Magazine tributeto the president published this week - concisely sums up why none of it may matter.
"The same cultural safe spaces that blinkered coastal elites to candidate Trump's popularity have rendered them blind to President Trump's achievements on behalf of ordinary Americans," writes the 2016 presidential candidate who was bested by Mr Trump and once called him a "pathological liar" and a bully.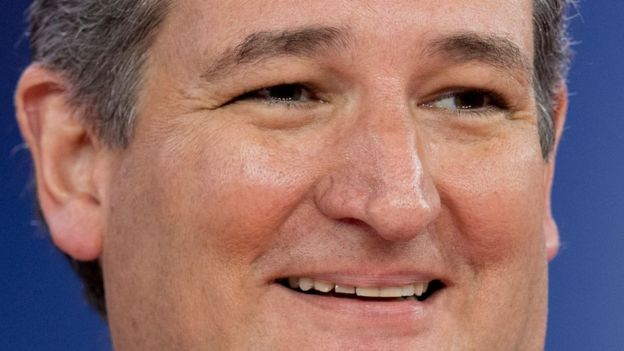 "While pundits obsessed over tweets, he worked with Congress to cut taxes for struggling families. While wealthy celebrities announced that they would flee the country, he fought to bring back jobs and industries to our shores. While talking heads predicted Armageddon, President Trump's strong stand against North Korea put Kim Jong Un back on his heels."
Trump was elected to "disrupt the status quo," Mr Cruz contends, which is exactly what he's doing. The chaos and the controversy, the gnashing of teeth by establishment lifers typified by people like Mr Comey, are "not a bug but a feature".
That's the Trump re-election pitch in a nutshell. For struggling Americans, Washington chaos isn't a pit; it's a ladder.
Mr Trump and his team have two-and-a-half years to sell that to the US public.